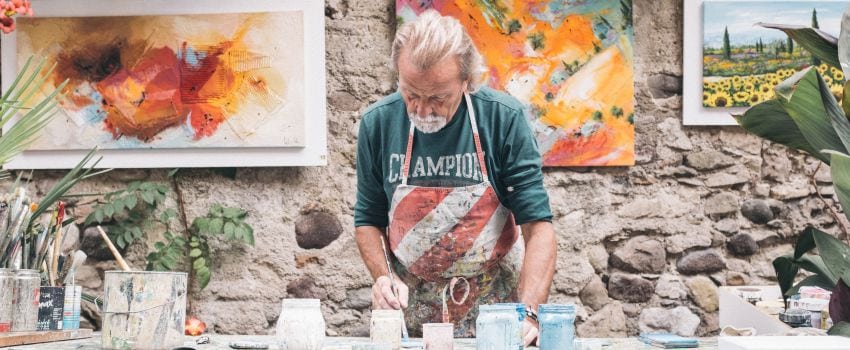 [UPDATED] What is the real cost of opening and running an Etsy shop?
When it comes to starting a small business, especially if it is related to the handmade world, Etsy is one of the first options for selling goods online people find out about. Many business owners start their adventures on this platform and a great number of them keep their shop open way after they have reached a good level of recognition and have their own standalone website. That's my exact case: I started my graphic design shop 8 years ago and even though most of my sales come from my own website now, I still keep my presence on Etsy because it is where most of my new clients find out about me. Another reason why I like it and why I will probably keep my shop there for many years to come is that it is a really cheap e-commerce option when you compare it with other solutions out there. But what is the real cost of opening and running an Etsy shop? Is it really worth it as a way of starting your business? Let's find out!
[Visit Sombras Blancas' shop on Etsy]
How much does it cost to open an Etsy shop?
That would be the first thing you need to consider, right? Well, opening an Etsy doesn't cost a cent. You read right. You just need to create an account and associate a debit/credit card to pay for your transaction fees once you start listing and selling products. There is neither an initial fee nor a mandatory monthly cost for just having your shop running. However, you could upgrade your account by paying for an Etsy Plus subscription, which would grant you some extra features such as advanced shop customization options and advertising credits.
How much does it cost to upload a product?
Each time you add a new product to your shop, Etsy will charge $0.20. This product listing will last for 4 months or until it sells. If those 4 months expired and you haven't sold the product, you can renew the listing for another $0.20. So let's say you have 25 products ready before opening your shop. The cost of uploading your initial collection would be $5.00.
If you don't have an Etsy account yet, feel free to use this link to get your first 40 listings for free.
What are the transaction fees when I sell a product?
They can be divided into 2 parts:
– The actual transaction fee: you will be charged 5% of the item price including the shipping cost.
– Payment processing fees: these are variable depending on your bank's country. They go from 3% to 4% depending on the country + around $0.25 per sale including shipping. You can check out the fees for your country on this link.
Transaction and payment processing fees will be added to your Etsy payment account, being directly subtracted from any money you haven't transferred to your bank yet. If you don't have any money sitting on your Etsy account, you can decide to pay your Etsy bill whenever you want each month.
So what is the monthly cost of running an Etsy shop? A couple of examples
Let's illustrate it using 2 different cases. For the purpose of these examples, let's say these shops are based in the United States and we won't take shipping fees into consideration (you will normally adjust them so they don't cost you).
– On the first one, we are talking about a small shop with 30 products, which makes an average number of sales of 10 per month at an average item price of $35.00. This could be the case of jewelry designers who run their shop on their free time. The monthly fees would be:
Renewing/adding new products: you have 30 products that you need to renew 3 times a year (because each listing last for 4 months). That makes an average of 7.5 renewals a month. We also need to add the fee for renewing or uploading new items after each sale. That would add 10 renewals. Of course, these two numbers could overlap in different ways depending on the number of new items you add to your shop on a monthly basis. We will use 17.5 renewals a month for the sake of example. The total fee would be $3.50.
Etsy transaction fees: with 10 sales at an average price of $35.00, your shop would make $350.00 a month. $17.50 would be added to your bill as transaction fees.
Payment processing fees: these would be 3% of $350.00 + $0.25 per sale. The total fee would be $13.00.
To sum up, you would have made $316.00 after paying $34.00 on your Etsy bill.
– As a second example, let's say we have a much bigger shop: 125 products with an average number of sales of 40 per month and an average item price of $60.00. We could be talking about a vintage shop. The monthly fees would be:
Renewing/adding new products: following the same logic as in the previous case, there would be 31.25 renewals a month because of expired items and 40 for adding a new item after each sale. The listing fees would be around $14.25.
Etsy transaction fees: the shop would make $2400 a month so the fee would be $120.00.
Payment processing fees: these would be 3% of $2400 + $0.25 per sale. The total fee would be $82.00.
We would end up making $2183.75 after paying $216.25 on Etsy bill and PayPal fees.
There are also other ways you can spend money on Etsy like promoting your items by using Etsy Advertising or creating a standalone website with Pattern but those are completely optional. Keep in mind that the month you don't sell a single product, which would probably be the case if you were starting, you only have to take care of the renewal/adding new listings fees, which are absolutely laughable.
I don't want to start talking about other e-commerce options because this article would be endless but I think these numbers are a good way to understand the value of this platform, even if you don't know about other tools to compare it with. For me, Etsy is a huge opportunity for small business owners to show their products to the world or simply for people with a passion who want to take it to the next level in their spare time. In my opinion, these low fees and the ability to automatically connect with a ton of buyers internationally, are the main reasons why it is worth trying.
—
If you are in the market for logo design, check out my Premium Branding Pack. You will get not only a professional custom logo design but also 11 branded marketing elements that are crucial when presenting your business to the world.