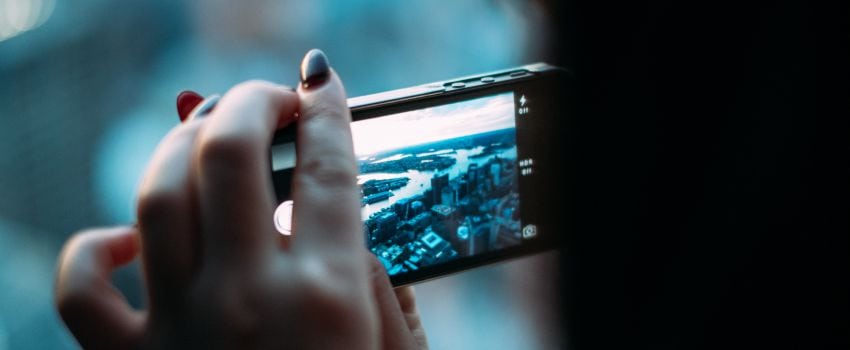 Instagram Stories: 7 tricks and 7 ideas to market your business

This functionality may be new to the Instagram platform but it has been out there on Snapchat for quite a while. Instagram stories are similar to Snapchat stories in every possible way: you can post both photos and videos, customize them with text and color doodles, add filters (though not as elaborate as on Snapchat), only your followers can see them and they just last for 24 hours. I've had a Snapchat account for some time now but I have never posted a public story. The amount of work that goes into growing an audience on a new platform has been keeping me from adding it to my business strategy. That's why I got really excited when I heard Instagram was launching their stories. We now have the opportunity to use this new feature with our already existing Instagram following, without having to start from scratch. The fact that these posts self-destruct after a day allows us to share more personal, spontaneous content without losing the professional look of our accounts. The possibilities are endless.
Ultra-quick tutorial: How to post an Instagram Story
Open your Instagram app and tap on the plus icon you see on the upper left corner.
Take your photo by tapping on the white button or record your video by tapping and holding.
Customize your photo or video by adding text, doodles and/or filters.
Once you are done customizing, tap on the arrow on a white circle at the bottom of the screen and that's it!
You can check your story by tapping on your own profile circle at the top of the Home screen.
7 tricks to improve your Stories experience
Use photos and videos from your phone. I love this one! Perfect if you want to upload more professional photos or images you have created on your computer. Instead of tapping the white button to take a picture, swipe down and a small gallery with all your photos and videos from the last 24 hours will appear. If you want to upload an older photo, simply email it to yourself and download it to your phone so the file counts as new.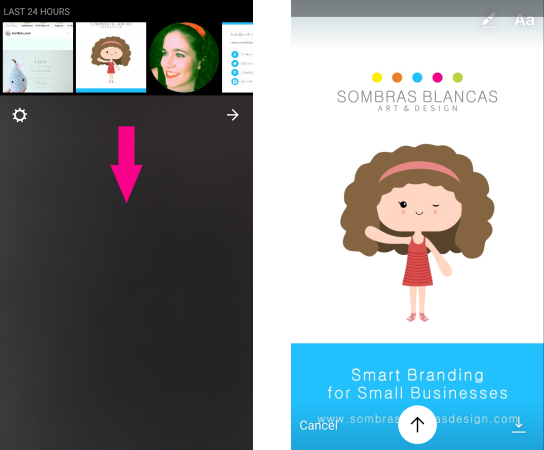 Download your Stories. If you want to save an image you have created on the Stories interface, you can do so by tapping on the 3 little dots you see on the bottom right corner of the screen while you are watching it and selecting "Save photo/video".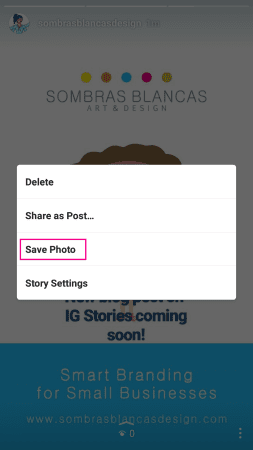 Hide your Stories from specific users. You can do this from the same settings menu from the previous trick or on your own profile settings (Your profile screen, 3 little dots at the top right corner). On either of them, you will find an option called "Story Settings". Tap there and you will find a "Hide Story From" option where you can select all the users you want.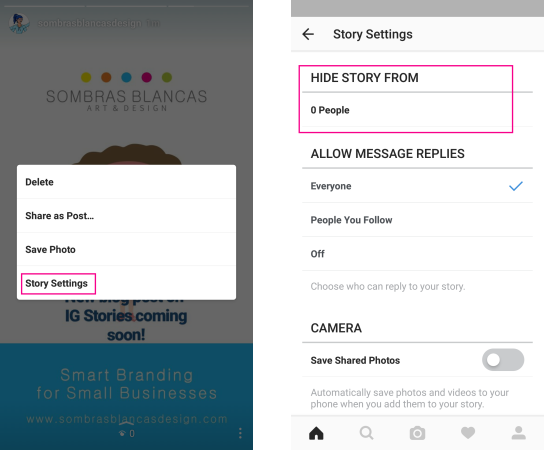 Infinite colors for your doodles. When you are customizing a photo or video and you click on the pen tool to add some doodles, only a limited amount of colors will appear at the bottom. If you swipe right, you will get a couple more palettes BUT if you place your finger on top of any of the colors and hold it there for a moment a full spectrum palette will appear and you will be able to select any color you want.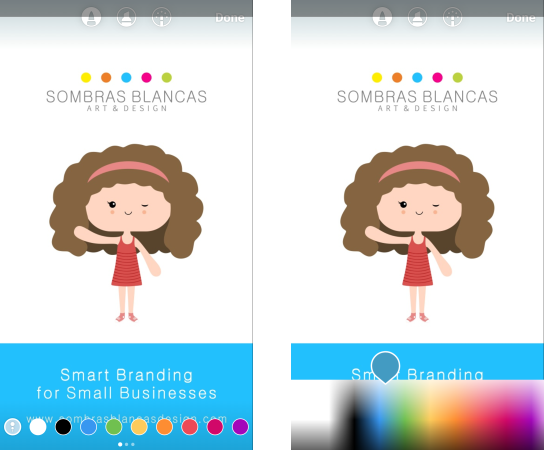 Add a full color background easily. If you don't want a photo or video but simply a color background to add some text on top, you can fill the whole screen with color quickly if, after selecting the pen tool and your desired color, you tap and hold anywhere on the screen, wait for 1-2 seconds and then swipe your finger in any direction.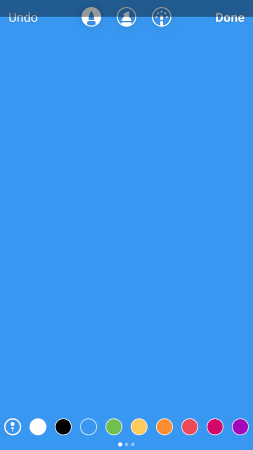 Zoom in and out on your videos. While you hold the white button when recording a video, you can swipe up and down the screen to zoom in and out.
Background music for your videos. If you want to add some background music for your Story video, play your song on your phone music player, go to the Instagram app and record your video. The music will be automatically added as background sound for it.
7 ideas to use Stories to market your business
Show your entire product creation process. You can take photos and videos with your phone while you are working on a product, from start to finish, and then use the first trick from the previous section to post a selection of them to your stories, even if the process took more than one day.
Instagram-only flash sales. Create a discount code and post a 24-hour flahs sale (only while the story is active). Be sure to let all your followers from other social media know that you are having a sale but only Instagram followers can see the info. That way you can sell some products and also get some new followers.
Event reminders. Are you hosting a webinar? Or doing a Facebook live session? Or selling at a craft fair this weekend? Post a couple of event reminders to your Stories: one some days after and another one the same day of the event.
Create a challenge/contest. Ask your followers to post a specific type of photo during the time the Story is active using your hashtag or tagging you on the caption in order to enter a challenge/contest. You can pick your favorite or a random winner and send them a prize or share their picture on your account. Another great way to connect with your audience and get new followers.
Generate buzz for your new product. Share sneak-peeks of your upcoming product or service and be specific about the launch date. Announce some early bird perks if it is a service or a discount or extra gift for the first buyers if it is a product.
Share client testimonials. If you feel posting your testimonials to your actual Instagram profile is a bit braggy, you can post them to your Stories. That way, they will look much more spontaneous and will be ephemeral. The perfect push for that follower who is considering becoming a client.
Answer some questions. You can use video Stories to post answers to frequently asked questions or even ask your followers to send you questions they are curious about and do a little Q&A. You can ask for these questions by posting a picture to your Instagram profile so those who want to see your answers will need to follow you first.
Now tell me, how are you using your Instagram Stories? Do you have any ideas to promote your business via Stories? Do you know any other tricks? Hurry up and post them in the comments so we can all learn something new. I will also love to follow you on Instagram. Leave your link on the comments or comment on any of my photos saying this post sent you there.
Enjoy and don't forget to share :)