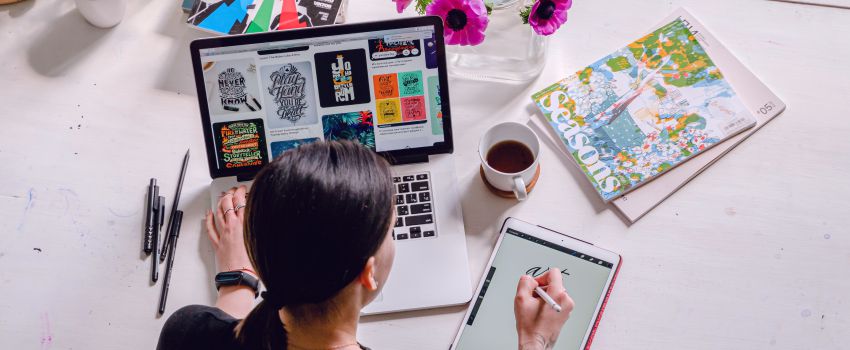 How to open an Instagram shop step by step
If you are on Instagram, you have probably noticed the app layout has recently changed considerably. Along with regular posts and stories, there is a huge emphasis on Reels and Shopping now. They are not new elements but after this last update, they are gaining much more attention. That means if you are a small business owner selling products online and you were not using Instagram Shopping yet, this is a great moment to start. Here you have a step-by-step tutorial on how to start selling your products on Instagram for increased exposure and sales.
What do you need to start?
· A business Instagram account (not a personal profile).
· A Facebook page for your business that you have connected to your Instagram account. Here's how to connect them.
· A website where you sell your products online. This can be a self-hosted website, a Shopify site, an Etsy shop or similar. If you have an Etsy shop, make sure to read the specific info on the How to create a catalog
How to open an Instagram shop
Create a Facebook shop on your Facebook business page
Your Instagram shop will pull your product info from your Facebook page so you first need to have a shop there. Here's how to do that:
1 · Go to Commerce Manager (you can click on this direct link).
2 · Click on the Create a Shop button and Next.
3 · Select Checkout on Another Website and click on Next.
4 · Select the Facebook page you want to use for the shop (your linked Instagram account could appear here as well) and click on Next.
5 · Select the catalog you want to show on your Facebook shop and click on Next. If you don't have a catalog yet, follow the steps in the next section and then come back here.
6 · Verify all the details, check the agreement box and click on Finish Setup.
Once you have completed this process, Facebook will review your info. When it is approved (they will notify you via email), you will be able to customize and publish your shop on your page.
Create a catalog for your Facebook shop
A catalog is a collection of products that will be available on your Facebook shop (and later on Instagram as well). Here's how to create one:
1 · If you are setting your Facebook shop for the first time, you will be offered the option to Create New Catalog in step 5 from the previous section. Otherwise, you can go to facebook.com/products and click on Create Catalog.
2 · Select the Ecommerce option and click on Next.
3 · Select your upload method. Some ecommerce platforms such a WooCommerce or Shopify allow you to synchronize your products with your Facebook shop. If you use any of those platforms, select the Connect Ecommerce Platform Otherwise, select the Upload Product Info option.
4 · Select your Business Manager account, enter a name for your catalog and click on Create.
For now, your catalog is empty. You now need to add your products to it. If you have an Etsy shop, please, read the section below first.
If you chose the Connect Ecommerce Platform option, follow the steps to connect your Facebook shop with WooCommerce or Shopify and take it from there by choosing among the options each platform will offer you.
If you chose the Upload Product Info method, you have 3 different options:
· Adding products manually. Go to facebook.com/products, select your catalog, open it, click on Items, Add Items and Add Manually. Upload your product photo and info and repeat for each product you want to add.
· Adding products from a data feed file. This may sound a bit tricky but I think it is one of the easiest options if you don't have a ton of products. With this method, you will be adding your product data to a spreadsheet and uploading it to Facebook. I recommend you to use the Google Sheets option. Here you have more info on how to do that.
· Adding products with a pixel. If you have a lot of products that change very often, this may be the best option. Follow these steps to configure it.
IF YOU HAVE AN ETSY SHOP, READ THIS FIRST
Since Etsy hasn't implemented a way to synchronize your products to your Facebook shop (for now) or use a Facebook pixel, you will probably add products to your catalog either manually or by using a data feed file. During both processes, you will be asked for your website URL and for each one of your product links. Here comes the important part: don't use the www.etsy.com/shop/shopname URL format in any case! Instead of that, use the shopname.etsy.com format every time. For products, you can copy the URL and then replace the beginning with the second format.
Why is this necessary? At some point during your Instagram Shopping initial setup, you will be asked to verify your website domain. If you used the www.etsy.com/shop/shopname URL, you will be asked to verify www.etsy.com, which you don't own. If you use the shopname.etsy.com URL, you won't have any problems. Follow this quick tutorial on how to verify your Etsy shop domain on Facebook.
If you already used the www.etsy.com/shop/shopname URL format during the process and you are having problems with the domain verification process, you will need to contact Facebook through your Commerce Manager. They will disconnect your Instagram shop and you will be able to set it up again with the correct domain (after you fixed the URLs in your catalog and verify the correct domain on Facebook).
Get your Instagram shop approved and running
1 · Open the Instagram app on your phone.
2 · Go to your profile and tap the 3 lines on the top right corner.
3 · Then select Settings, Business and Sign up for Instagram Shopping.
4 · Follow the steps and Submit.
Your request is now waiting for approval, which you should get via email and an app notification during the next couple of business days, although if you completed all the Facebook configuration correctly, it is normally approved the same day.
Once you get the confirmation, go to Settings/Business/Shopping on your Instagram app, select the catalog you would like to connect to your shop and you are ready to go!
Now what?
These are some of the benefits and possibilities of your new Instagram shop:
· A new Shop button is visible on your profile so users can access your products directly.
· You can tag specific products on your posts and stories.
· Whenever you tag a product on a post, it will likely appear on the new Shopping explore tab which is personalized to each user based on their interests.
All these new tools are a great opportunity for your business to reach a broader audience so start taking advantage of them today! Feel free to ask any questions you may have and don't forget to share this post if you find it useful :)
If you are in the market for logo design, check out my Premium Branding Pack. You will get not only a professional custom logo design but also 11 branded marketing elements that are crucial when presenting your business to the world.