9 essential websites for small business owners and entrepreneurs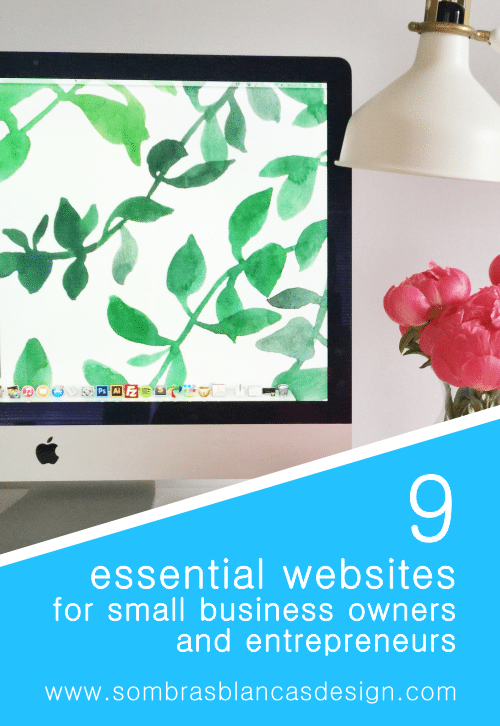 Whether you are thinking about starting your own business or you are already there, you don't have to do it alone. There are a lot of really good reference sites out there packed with useful tips, free guides, podcasts, forums and news about social media, marketplaces and trends. Keeping an eye on some of these websites will help you stay connected to a broader community of people with the same needs and interests as you as well as eventually finding new clients. Here you have a list of some of the websites I usually check on a regular basis.
Here you will find dialy posts about the latest news on social media and blogging, super useful tips to help you improve your social media engagement, launch a product successfully or use that new, powerful tool you hadn't even heard about.
The perfect site to read about innovative new startups and small business related content. A lot of the new brands and businesses they talk about are actually tech companies offering apps and online tools for entrepreneurship, productivity and communication.
For me, the most interesting part of this site are the videos featuring business owners talking about their experiences. If you are a female entrepreneur this can be a great opportunity to reach a great audience while promoting your own business.
If your business is handmade-related or Etsy-based, this website is for you. They post shop owner stories, Etsy stats and tips on how to improve your SEO and marketing strategy. They also publish guest posts so it can be a good way to spread the word about your business.
A wonderful website where you will find all you need to know about blogging succesfully, improving your SEO and growing your email list. All the posts are super detailed and include actionable tips.
The ultimate collection of blog posts about social media. Pinterest, Twitter, Facebook, Instagram, Periscope… everything you may need to master these tools and create a marketing strategy based on them is here.
Click to find a lot of interviews with small business owners and entrepreneurs talking about different topics. Monica Lee is a wonderful interviewer and always asks the most interesting questions. This one is awesome if you can listen to it while working.
Jo combines blog posts with podcasts to offer ways to work smarter and more creatively. She is super fun to read and always achieves to put a smile in your face.
Natalie Sisson's posts and podcasts usually focus on how to become a location independent entrepreneur but her tips and ideas can be implemented by almost any business owner. She sometimes shares her content via YouTube videos what makes her blog much more dynamic.
I hope you find this useful! I would love to hear from you on the comments. What business-related websites do you usually visit?
Don't forget to share with your followers!